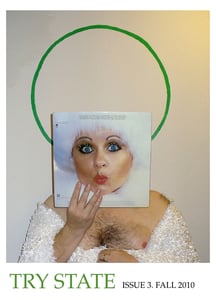 $

13.00
TRY STATE MAGAZINE: Issue 3 features work by: Michael Alago, bolang, Michal Boothe, Coke Brown, Jr., Quar Brown, Walt Cessna, Sergio Delgado, Dipiriri, Tobias Feltus, Federico Forlani, Diego Garcon, Frank Aron Gardso, Luca Guarini, Holtom, Naruki Kukita, Bruce LaBruce, Joshua Mainprize, Gregory Moon, Sylvain Norget, Rob Ordonez, Kris Pithalua, Gio Black Peter, Ves Pitts, Michael Puff, Brian Riley, Robbeyond, Ryan Scott, Robert Smith, Solarixx, Christopher Stribley, Rob Torres, Gerry Visco, Jim Wilkinson, and Jessica Yatrofsky.    
TRY STATE MAGAZINE, an independent biannual publication designed for an alternative audience, truly has their finger on the pulse of contemporary art. It is a curated showcase of the world's most interesting artists and photographers.
What distinguishes TRY STATE from other magazines is its sleek and minimalist design. Far from the congested look of magazines of this type, the format is designed to truly showcase the works. With Issue Three, TRY STATE MAGAZINE continues to position itself as the paramount art and photography magazine for today's contemporary art lovers.  
go to our website HTTP://TRYSTATEMAGAZINE.BLOGSPOT.COM for more