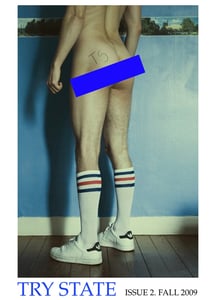 $

20.00
Cover Image is censored on this page due to content. Copies do not have blue stripe.
Try State Magazine does it again. Issue two is even better. Contributors include
Cover: Sylvain Norget
Back Cover: Portrait of Madonna, Caroline Torem Craig
Sean Cannon
Ryan Pfluger
Alejandro Caspe
Markus Bollingmo
Iggy Berlin
Rico JC
Azrul Dwi
Walter Cessna
Albert Madaula
Richard Haines
Olivier Valsecchi
Lauren Ezersky
Robbeyond
Christopher Summerfield
Ves Pitts
Bolang
Gio Black Peter
Max Steele
Michael Epps
MJ Styles
Caleb Iida
Adriano Batista
Austin Young
Vaughn Michaels
Alexandra Gibson
Mark Doering
Diego Ciccone
Robert Adams
Interview with Martha Davis of the "MOTELS"
"Try State Magazine continues to position itself as the paramount Art and Photography magazine for today's contemporary art lovers. This curated publication brings you the best emerging artists from all over the world. Boasting an A-List clientele of curators, celebutantes, gallery owners, collectors, celebrities and art aficionados there is no other publication that runs as deep into the scene. Issue One was an international sensation with amazing reviews and unparalleled recognition, Issue Two goes beyond that!
HTTP://TRYSTATEMAGAZINE.BLOGSPOT.COM
There are not many copies left and this will go into out of print price of 50 dollars soon