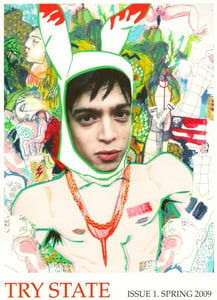 $

50.00
Only a few out of print issues left of issue one
TRY STATE MAGAZINE : Quality. Art. Trash. Nudes. Fetish. Punk. Music. Fashion Victims.
TRY STATE MAGAZINE focuses on contemporary art and photography and features the world's most creative, innovative and interesting images available.
TRY STATE MAGAZINE : contemporary fine art, photography and written works. The layout is a very simple, clean with a stylish format designed to truly showcase the works. Each issue of TRY STATE includes the columns "Confessions Of a Fag Hag" and "80's Band Worth Rediscovering."
This premier issue is now available and features cover art by Gio Black Peter, artist and lead musical talent for Black Peter Group.
TRY STATE MAGAZINE line up for Issue Number One:
GIO BLACK PETER
CSABA FALUDI
ROBBEYOND
STAURT SANDFORD
SYLVAIN NORGET
LUKE GILFORD
MCKENZIE JAMES
BOLANG
LUIGI Y LUCA
MIKEL MARTON
AUSTIN YOUNG
CAROLINE TOREM CRAIG
CALEB IIDA
LEE HARVEY ROSWELL
DRASKO BOGDONOVIC
VIVIEN AYROLES & STEFANO MARCHIONINI (ENTR'OUVERT)
ADRIANO BATISTA
*******
TRY STATE MAGAZINE Issue 1. Spring 2009
52 pages (10 pages of color)
6"x 9" on white quality paper
*******
"Try State Magazine is the Visionaire of the Zine World, the new limited edition publication crafted by Robert & Robert is sure to gain international recognition with works by the World's most current artists. The sleek design and edgy images - think Marc Jacob ad meets Robert Maplethorpe - leaves us craving more. It is no wonder that pre-publication demand is a virtual who's - who of the A-list Art World. You can visit the preview at http://Trystatemagazine.blogspot.com."
- A. Frick-Thomas
******
"Try State Magazine, the new biannual publication by Robert & Robert has its finger on the pulse of contemporary art. With its sleek & minimalist design it is a curated showcase of the world's most interesting artists, photographers and writers. What makes Try State so appealing is the layout which truly showcases the work. Far from the congested look of popular rags, each image is not only carefully chosen but also displayed as if it were in a gallery.
The combination of established artists including celebrity photographer Austin Young whose credits include Deborah Harry, Margaret Cho and Siouxie Sioux mixed with emerging artist Csaba Faludi ( Budapest) raw fetish type images allows us to follow a journey into bodies, portraits and self exhibition. Some of my favorite internet bloggers and emerging photographers such as Stuart Sandford, Luke Gilford, Sylvain Norget's Naked Rabbit Project, Robbeyond and Luigi y Luca from Barcelona all contribute, making each turn of the page exciting and naughty.
The premiere issue features cover art by Fabulous and talented Gio Black Peter, a young Guatamalan immigrant who continues to stimulate the senses with his visual works, multimedia experimental pieces and musical talent / stage presence. Makes me want to clap my hands and drop my pants.
Try State is light on the written word, one poem, one musical review ( forgotten eighties band) and the quirky/witty "Confessions of a Fag Hag" is a cornucopia of how to keep your boys entertained while maintaining your own sanity.
Almost as impressive as the work is Try State's contemporary interest list which reads as a modern day Social Registry. The contacts of this desired publication includes fifty of the world's top Art Collectors, several billionaires and a who's who of International Gallery Owners, Curators, Editors, Designers, Nightlife Celebutantes and Artists. Try State's connections run deep into the Scene.
In total Try State brings back the excitement of finding my father's playboy magazine in the in bathroom cabinet. I want to flip through each page quickly to see what is inside, then go through it slowly examining every page, image by image, piece by piece.
Robert and Robert claim to bring you 'quality, trash, art, nudes, fetish, homos, punks, gossip and fashion victims.' They deliver!"
- R.Vita
HTTP://TRYSTATEMAGAZINE.BLOGSPOT.COM
DUE TO SOME ADULT CONTENT:
By purchasing Try State Magazine, you certify that you are 18 years of age or older."